News & Updates
Ontario Unveils the 2017 Long-Term Energy Plan
Oct 30, 2017
The Ontario Ministry of Energy released the 2017 Long-Term Energy Plan (LTEP), titled Delivering Fariness and Choice, on October 26th. The 2017 LTEP has a strong focus on providing Ontarians the choice on how they use electricity, promoting conservation first, and a continued push towards renewable and non-GHG emitting sources of generation.
For Industrial customers, there is not a whole lot in the LTEP that will impact them. The largest and most substantial potential change is how Class B customers will be charged Global Adjustment (GA). Currently GA is charged to these consumers as a flat rate $/kWh. The government is looking into potentially charging GA on a Time-of-Use basis, which they state will save some companies money and promote conservation. This shift would essentially put Class B industrial users in the same boat as residential consumers, meaning that using electricity mid-day will cost more than off-peak hours. Although the program makes sense, since electricity is cheaper in off-peak hours the associated GA should reflect that as well, it does mean that many Class B consumers will be charged more if they typically consume energy on-peak.
Other notable changes for industrial users include a renewed commitment to energy conservation. This statement is a welcome fact for customers who are putting money and resources into energy efficiency and conservation programs. The statement included a continuation of the Industrial Conservation Initiative, with no news on whether the 500kW minimum will change, increased exploration into ways to provide assistance to mid-sized industry, and increased program offerings through the Green Ontario Fund.
Another change, one that is less welcome, is the statement that starting July 1st, 2018, CHP systems that use fossil fuels will no longer be eligible for incentives. CHP systems were gaining recognition as a way to ensure electricity reliability by generating electricity on-site. In particular, critical facilities, such as hospitals, were just starting to adopt CHP systems. Although the government is scrapping funding for CHP systems, the LTEP is looking at renewables and battery storage as options, and funding for those projects may be available.
Lastly, we will look at the electricity price outlook for large industrial consumers. The chart below can be found in the 2017 LTEP.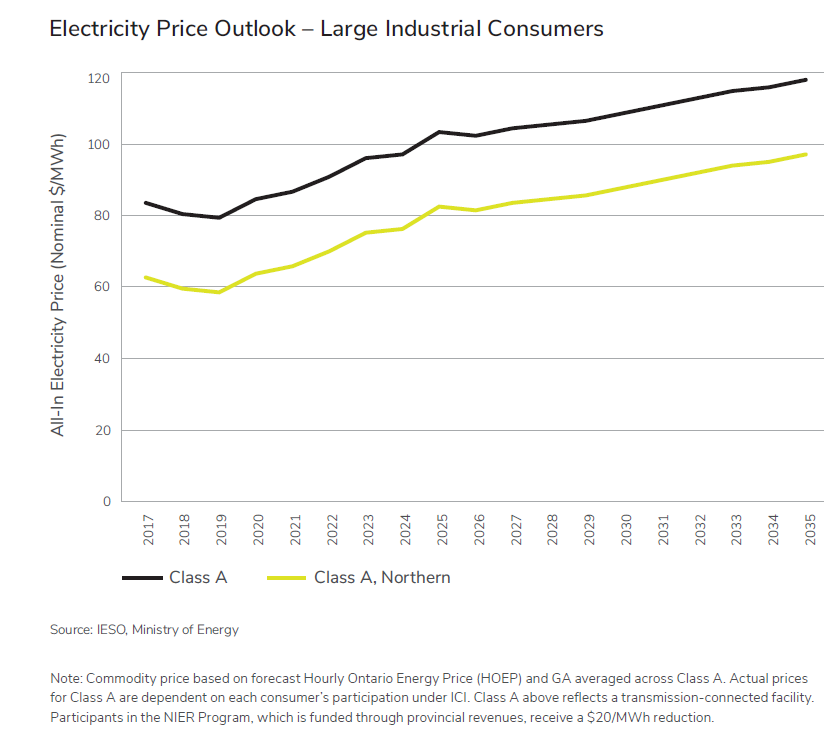 The two important things to note are that electricity prices are going to increase, and that the fine print of this chart means that it does not reflect most industrial users' electricity pricing. This chart was created using a transmission-connected facility who is a part of the Industrial Conservation Initiative. Transmission-connected companies total 59 in Ontario. While these companies are large users of electricity, they do not represent the majority of industrial users in Ontario. Many of these large users have the means to have a dedicated in-house energy management team. This allows them to most effectively take advantage of government programs, such as the ICI and the Demand Response Auction, secure funding for projects, and identify energy reduction opportunities.
However, the average industrial user does not have a dedicated energy manager, they may not meet the threshold for ICI or the Demand Response Auction, and may not have the capital required for efficiency upgrades. These consumers are the ones most impacted by changes in electricity rates, however the LTEP does not outline what their current or forecast costs are. For the average industrial consumer an external energy management team such as the one at Canadian Energy Strategies, provides the most cost-effective means to understand their usage and achieve savings.
Links: 2017 LTEP
Ontario's Manufacturing Sector Attempting to Survive Rising Electricity Costs
Oct 23, 2017
A recent study by the Fraser Institute has found links between Ontario's rising electricity prices and a drop in manufacturing sector jobs. It outlined that Ontario has the highest hydro rates in Canada, as well as some of the highest costs in North America. Ontario's electricity costs are also among the fastest growing, rising 48% in Toronto, from 2010 to 2016. With the manufacturing sector being a crucial part of Ontario's economy, as well as accounting for 40% of Canada's exports, the industry is a strong one that has proven resilient to economic challenges. However that industry has also started showing signs of stress over the last decade.
The Fraser Institute has noted that Ontario's manufacturing sector has recovered slower than neighboring jurisdictions from the last recession, and its share of the GDP has decreased over the last decade while in other jurisdictions it is rising. This data shows that factors such as global demand, exchange rates, and technology cannot solely account for the decline. The study has specifically pointed at Ontario's high electricity costs as a direct cause behind this decline placing 64% of the blame on those costs. That 64% represents approximately 75,000 jobs lost as a result of the electricity prices.
The study also looked into the role that policy had in electricity prices and job losses. The Government of Ontario's green energy policy push has created jobs in the green tech industry, however, the study claims many of those are temporary and 1.8 jobs were lost for every green job created. The Government has continued to back its decisions to push for a greener economy and, to its credit, coal has been phased out, smog has been reduced, and Ontario is one of the leaders in green infrastructure. These positive changes have come at a cost which is reflected in the hydro rates as well as job losses.
Overall Ontario's manufacturing sector has been struggling and lagging behind. Companies are closing doors and jobs are being lost. However, there are still many businesses that are still doing well and employing hundreds of thousands of Ontarians. Businesses that strive to improve and invest in new technology can reduce their electricity costs and lessen the burden of Ontario's high hydro rates. There are many opportunities to reduce electricity costs, and many of which can be partially funded through government funding. In order for Ontario's companies to thrive in this market, they need to be ahead of the curve in regards to energy management, and a Certified Energy Manager, such as those at Canadian Energy Strategies is the first step in the right direction.
Links: Fraser Institute
Ontario's Peaksaver Green Initiative Coming to an End
Oct 10, 2017
On September 30th, 2017, Ontario's PeaksaverPlus program which began in 2007 came to an end. The program is ending due to multiple factors, including outdated technology, new smart thermostats that are more user friendly, and customers being more informed.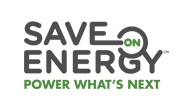 The program, part of Save on Energy which is managed by the IESO, was rolled out at a cost of $270 million and was implemented in over 300,000 Ontario households. The program did have successes, many of which stem from the fact that it was a pioneer program, and smart thermostats were relatively new on the market.
It was designed to reduce demand remotely via the IESO during peak hours, however over the course of a decade it was only implemented 21 times (2 of which were on September 25th and 26th during the heatwave). This demand reduction was touted as a clean and green solution to reduce peak demand in Ontario, but ultimately it was not used frequently enough to be worthwhile. This is a prime example of how energy reduction strategies work when the customer is involved and there is an incentive to be involved. Peaksaver was initially claiming that it would save people money by reducing usage during peaks, but having only reduced usage 21 times in 10 years means very little in the long run.
There is a new wave of programs coming to replace the Peaksaver program, including the new smart thermostats for 100,000 Ontario households. This time however the responsibility and incentive to reduce usage is on the homeowner. The new smart thermostats allow users to adjust their thermostat via an app on their mobile phone, making them more convenient and easier to keep track of. Ultimately energy reduction has to be a priority of your household or business in order to benefit the environment and your bottom line. There are many resources available that businesses can seek out, however the government programs can be difficult to interpret and time consuming to go through. An energy manger, like those at Canadian Energy Strategies, can help by understanding these programs and bringing opportunities to you.
---
Source: CBC